Breast Feeding Green Girl Kaitlyn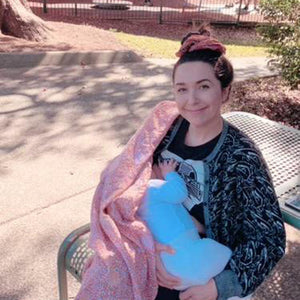 My Breastfeeding Journey Wasn't Easy….
I had an emergency cesarean because I had an infection during labour. I was sick and Evie was born unwell and unable to regulate her body temperature or blood sugar levels. This meant we spent hours apart after she was born and we spent the week in the NICU….
They gave Evie formula in the NICU in my absence and to try and stabilize her blood sugar levels. Even after we were discharged, we had to formula supplement her after every breast feed.
I had major supply issues- starting with over-supply which exacerbated Evie's digestive issues and reflux, no doubt compounded by high dose antibiotics from birth. THEN under-supply from over-correction of the under-supply. I was starving my baby and didn't know it- I thought she was crying constantly from reflux and tummy pain?!!! She was not putting on enough weight. 😭
I cried and cried and cried….how could this thing that was supposed to be so 'natural' and 'intuitive', be so hard? Many people told me it would be easier to formula feed. I have nothing against this BUT, in my heart I knew that I wanted to breastfeed Evie and that it was the best thing for her. For us.
I kept going and persevered through feed after feed, sleepless night after sleepless night; screaming, unsettled baby on my boobs and supplementing with formula after every feed and a lactation consultant at my whim. Through ptsd and ppa, I stuck to my guns until I had no tears left to cry.
Gradually, bit by bit, Evie got stronger and my supply got more consistent. Evie (now affectionately called 'Big Pud') was gaining weight like a champ and we began to reduce the formula supps.
Now, Evie is exclusively breastfed and we both love it. 🥰
I understand that not all Women have the opportunity or ability to breastfeed. I SEE  YOU. I understand that not all Women want to breastfeed. I RESPECT YOU.
Happy World Breastfeeding Week🤱🏻❤️
#worldbreastfeedingweek
Leave a comment
Comments will be approved before showing up.