Balinese Yogini Stephanie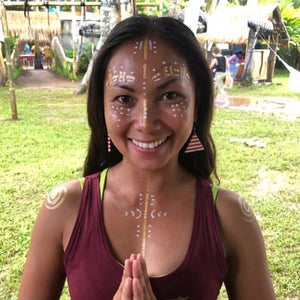 I was born and raised in Bali. After separating from a very long relationship/marriage I became very stressed, I thought it would be the end of my life. Despite being left I also have one kid and needed to look after him, being a single parent is never easy, day by day you just have to keep working for the future and this was so difficult for me.
It wasn't until one year later that, during a well earned day out in Ubud where I met what turned out to be a very influential yoga teacher, she told me that yoga can heal your mind and make your body stronger and healthier. She then encouraged me to go and practice with her. I instantly fell in love with yoga and found this very inspirational, in turn it gave me the motivation to maintain my practice. Since then I felt much happier and healthier. When she left Bali i took it upon myself to look for another yoga studio and went to regular classes to keep practicing. I was able to discover how yoga can work for me, and in turn build on my mind, body and soul, both off and on the mat.
Several months later during a class, my yoga teacher whom also a surfer told the student in the class randomly: try surfing, bring it to the water where you can continue to work with the breath and balance. Since then I have been surfing regularly, it makes me incredibly happy to be in the water, it has really changed my life.
Two years ago I was then lucky enough to get my scholarship to do the yoga teacher training at The Yoga Barn in Ubud. I was very fortunate to have got it and did the training, since then I havent looked back, I have been teaching yoga classes all over Bali, as well fly high and even the occasional surf lesson.
For me the Essence of my yoga teaching is to bring joy, motivation and inspiration to others.
If your in Bali & you'd like a surf lesson or to attend a beautiful yoga class (available all over Bali) You can connect with Stephanie on Instagram @stephaniemandafuah1
Leave a comment
Comments will be approved before showing up.