Linda - Skin Health Emporium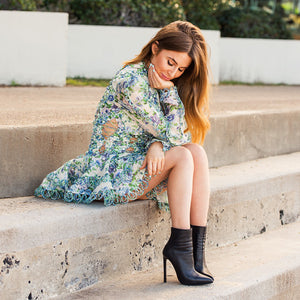 The human experience is one that involves struggle, I have a personal understanding of this, just like many of us. However, I truly believe it's how we adapt and respond to a challenge that determines the path our lives take. In my late teens, I started engaging in a process of self-love.

My name is Linda Barkham, I'm the Founder and CEO of Skin Health Emporium - I'd like to share my journey with those that have created the space to learn more about me and SHE.


Through both internal and external measures, such as mindfulness, healthy eating, self-care and yoga practice I found healing, perspective and strength. At a foundational level, Skin Health Emporium is the fruition of my self-love. In a world that is disproportionately concerned with the external, I have come to realise, real beauty comes when we seek balance.

In my early twenties I saved up for a trip to New York, I remember wanting to feel inspired. It was nearly at the end of winter when I arrived and the city was buzzing with an energy unique to a city that size. What grabbed my attention was the beauty industry. Like New York itself, the scale of it was more impressive than anything I'd seen before. The beauty industry in New York, embodied elegant sophistication, as well as the highest level of customer service imaginable. This city gave me an appreciation of the fine-tuning of a business model.
I wanted to create something in Australia that reflected that standard along with combining the importance of a combination of self-care, balance and internal nourishment, so I gained a qualification in business management, beauty therapy and yogic studies, I then went on to specialise in skin health and dermal therapy. For years, I worked with doctors and immersed myself in the beauty industry and then opened a skin clinic specialising in results-driven treatments and self-care. What became clear was the gap that existed between customers and skin care providers. People wanted a more deeper connection and education around self-care and skin health through internal wellness rather than just receiving treatment or purchasing a product. 


Shop: www.SKINHEALTHEMPORIUM.com.au
Connect with Linda on Facebook | Instagram | Youtube