Colourful Creations by Zeenya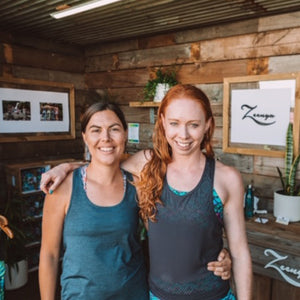 Embracing Life Through Colour that is the way of life for Chloe and Sarah as well as their motto for their brand, Zeenya Clothing.  After travelling to Brazil together in 2013 they were inspired by the people and how colourful and happy everything was, everywhere you go there are bright colours and people have smiles on their faces.  After their travels they wanted to inject some of this colour and happiness into New Zealand. Zeenya Clothing was born late in 2014, uniquely, colourful activewear designed to inspire and motivate women to be active and have fun doing it. 
Sarah has always loved colour and says how it lifts her mood for the day when she puts on something colourful, "It brings a smile to my face even if I might be having a rough day, I like the idea that our clothing can brighten someone's day too".  When it comes to exercise and moving our beautiful bodies both Chloe and Sarah believe colourful and fun prints give you motivation to move and enjoy being active. 
Another aspect which is really important to Zeenya Clothing is knowing where your clothing comes from and that everyone involved in making the garments are treated fairly and ethically. No workers are taken advantage of to sew our clothing they said, we know everyone in the production line and believe in doing business this way.  As well as this they invest inquality fabrics printed with the environment in mind, with low waste and also biodegradable threads.
Zeenya Clothing was born in Brazil and this is still where they source their fabrics, but their core range of clothing is now all produced locally here in NZ.  This was a huge move for the brand last year and they are so proud to be able to say they are NZ made.
.
Find out more about the girls from Zeenya Clothing over on their website www.zeenya.co.nz or @zeenyaclothing on Instagram or Facebook.
Leave a comment
Comments will be approved before showing up.