Festive Falafels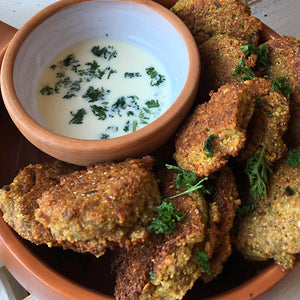 Festive Falafels
Looking for a Vegan BBQ Alternative for your Vegan Friends and Family over the festive season turn these falafels into tasty burger patties all you have to do is add more mixture to the pan when cooking.
If making Falafels this should make around 20 and atleast 6 burgers !
Ingredients 
2 Cans of Refried Beans
1 Tablespoon of Organic Peanut Butter 
1 Tablespoon of T3 tip to toe Detox
1 Large Grated Carrot or Zucchini choose your flavour 
1/2 Grated Apple
1 Cup of Cous Cous or use Quinoa if you'd like these Gluten Free
1 Cup Wholemeal Breadcrumbs (optional)
1/4 Cup of Nutritional Yeast Flakes (optional)
1/2 cup of Coconut yoghurt - 1/4 Cucumber (Optional Dipping Sauce)
Spices
1 Teaspoon of Turmeric
1 Teaspoon of Cayenne Pepper or Smoked Paprika
1 Tablespoon of Chilli Flakes
1/2 Teaspoon of Sea Salt flakes for Pink Himalayan 
How to create these yummy Festive Falafels
1. Cook either your choice of Qunioa or Cous Cous
2. While cooking grate your chosen vegetable & apple into large bowl, add refried beans, peanut butter, all spices and our T3 tip to toe.
3. Once cooked add Quinoa or Cous Cous & Nutritional Yeast if you choose to include (it gives a soft cheesy flavour)
4. Mix all ingredients together  
5. Using a Tablespoon as your measure for falafel size 
6. If you'd like these crunchy & don't need these GF take 1tablespoon of ingredients and lightly dust in breadcrumb.
7. Place Mixture in the fridge for  a minimum of 1 hour - anywhere up to 24hours.
8. Using a Large Non Stick Pan on a medium heat cover base of pan with Extra Virgin Olive Oil , adding your Falafels one by one cooking for 8-12 minutes on each side, turning heat down if needed.
9. Place on a paper towel as cooking to absorb excess oil
9. Serve with Coconut Yoghurt & Finely Grated Cucumber 
Thoroughly Enjoy these Flavourful Festive Falafels
Leave a comment
Comments will be approved before showing up.